About Golf Battle APK
Golf Battle apk is an online golf game where you compete against multiple players from around the world in real-time matches. Your goal is to be the first on each course to get your golf ball to the last hole. Luckily, you'll get as many hits as you need to get the most out of it.
The controls in Golf Battle are very simple: all you have to do is touch your screen and move your fingers back and forth to aim and swing. This way you can adjust both the power and the direction of your golf swing. The fewer swings you need, the better.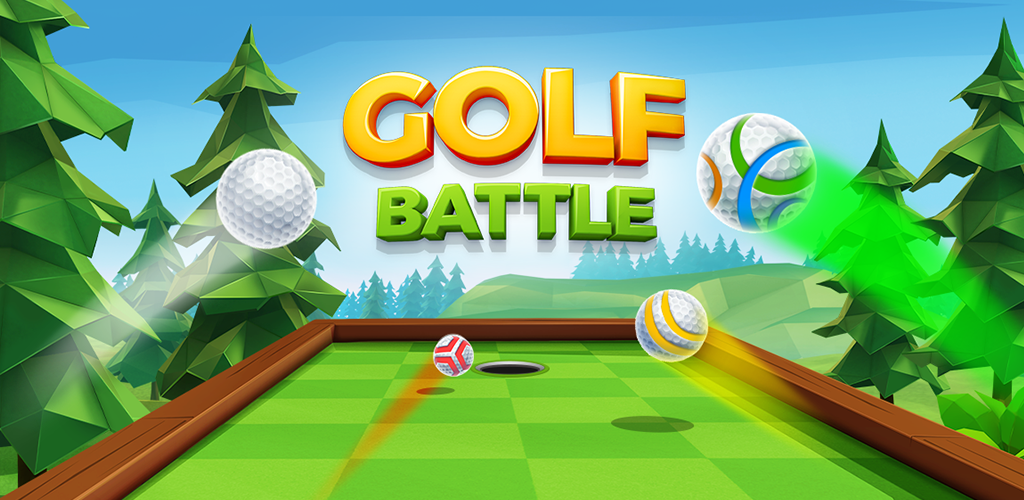 From game to game, you can use the coins you earn to buy all kinds of items like new golf clubs and golf balls. There are over a dozen different balls and as many golf clubs to unlock in Golf Battle.
Golf Battle is a multiplayer golf game that offers several game modes, a simple and straightforward control system, and very nice graphics. Moreover, you can play against random opponents and your friends over the internet.
Features of Golf Battle APK
MULTIPLAYER GOLF: Engage in real-time golf battles with players around the world, giving you a competitive edge in your game.
Unique Courses: Enjoy a variety of stunning and challenging courses to test your golfing skills and keep the game exciting.
Customizable Golfer: Customize your golfer with a range of customization options including outfits, accessories, and gear upgrades.
Intuitive Controls: Easy-to-use controls ensure a smooth and enjoyable gaming experience, making it accessible to gamers of all skill levels.
Power-ups and boosters: Strategically use power-ups and boosters to gain the advantage over your opponents and improve your performance.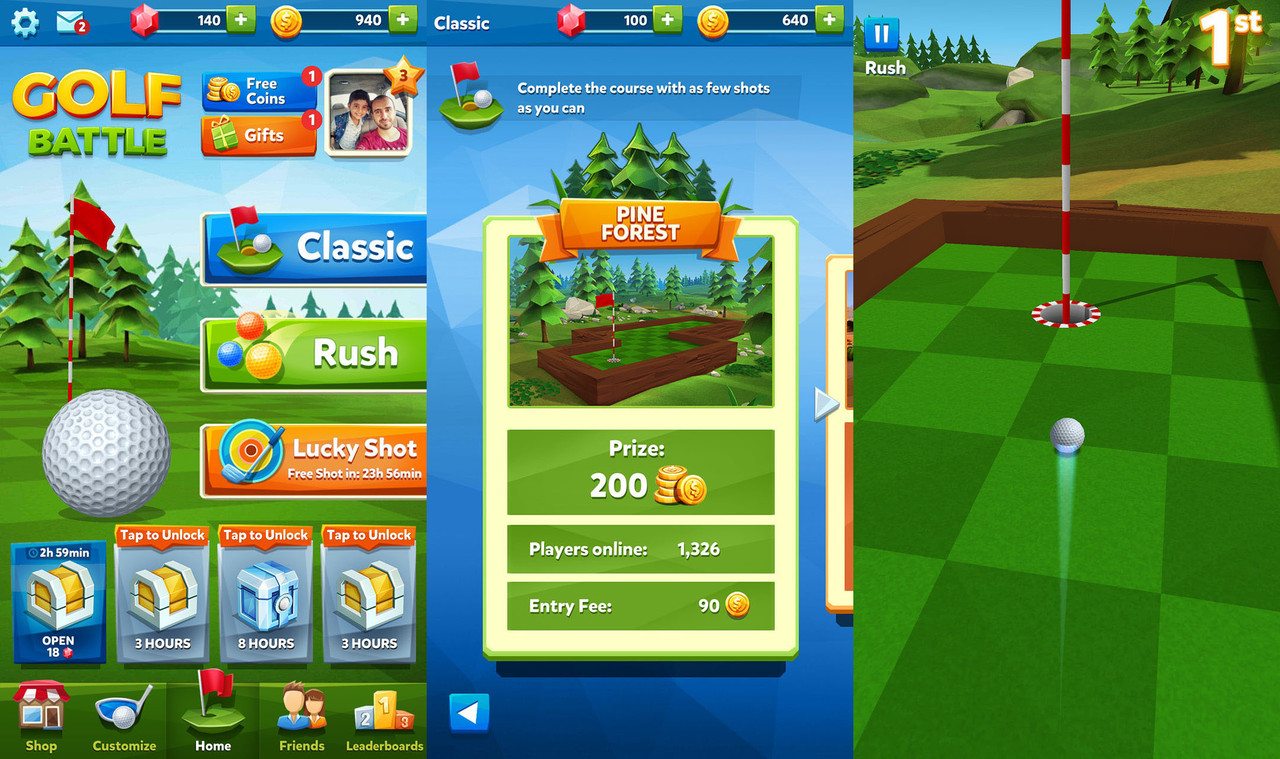 TOURNAMENTS AND EVENTS: Compete in exciting tournaments and events to win exclusive prizes and showcase your golfing skills.
SOCIAL CONNECTIVITY: Connect with your friends, challenge them to golf battles and share your achievements on social media platforms.
Offline Practice: Hone your golf skills even without an internet connection by practicing in offline mode.
Regular Updates: Stay tuned for frequent updates, new features, courses and challenges to keep the gameplay fresh.
Free-to-play: Golf Battle APK offers free access to the game, allowing players to enjoy the thrill without any upfront cost.
Key Features
Innovative 6-player online multiplayer.
Play together in real time with real players from around the world.
Play with your friends. With only 1, or up to 6 in total!
Relax and aim in classic mode.
Simple and intuitive controls. Fun and addictive game. Classy club.
Incredible 3D graphics.
Win prizes and powerful golf equipment.
Unlock and upgrade your clubs.
Level up and progress through over 120 holes, courses and levels.
Multiplayer Golf Battle
Pine forest
Clean greenery awaits you in the pine forest. Expect direct mini-golf action from start to finish.
Rocky Mountains
It's like golfing in the desert, but you're actually golfing in the Rockies! The dry nature of the course makes it imperative to avoid dangerous sandboxes and moving objects if you don't want to be left behind.
snow valley
Are you the king of golf? Put on your snow crown and enjoy cool levels involving water, ice, loops and many other fancy tricks that ensure your hands don't get cold when holding your clubs!
Mayan Jungle
Water, trees and lots of greenery separate the Mayan jungle from the golf desert. Enjoy the swing and explore the countless options to master the mini golf jungle levels.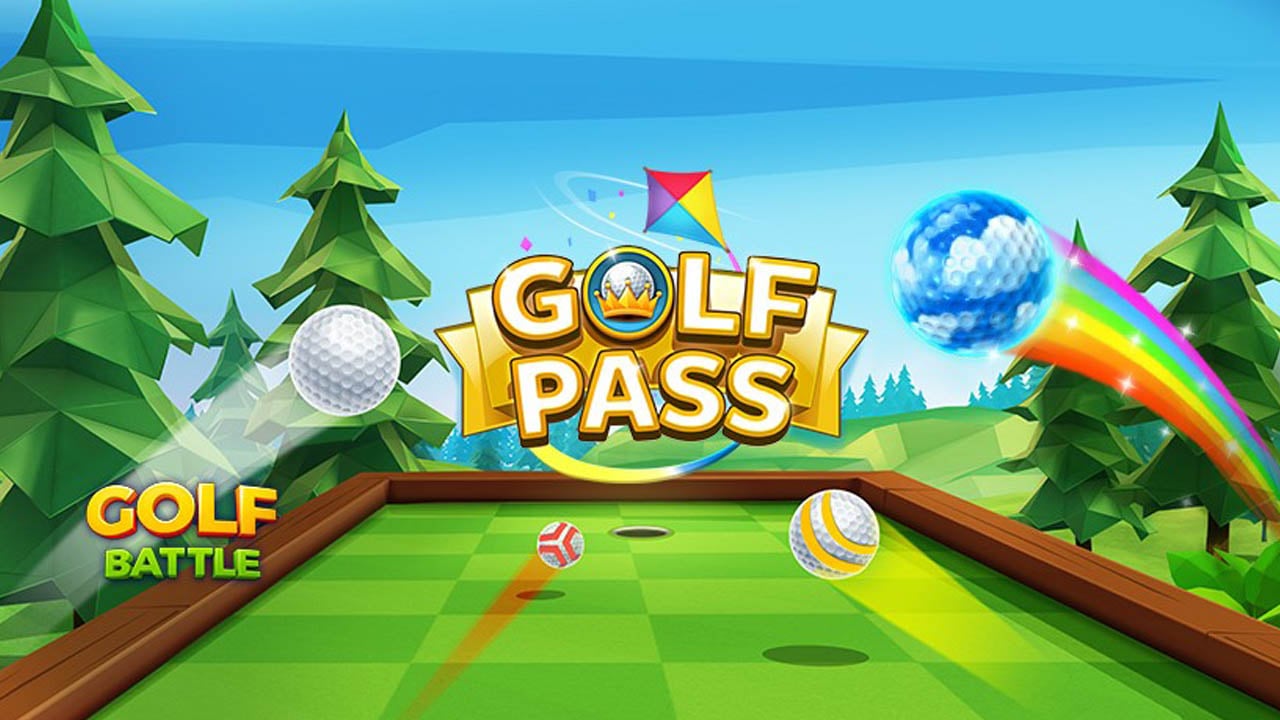 windy rocks
Fast stunts, lots of air and beautiful levels await you on Windy Cliffs. Just when you think you've seen it all, Windy Cliffs will test your golf swing. Get ready for a golf battle with nature!
Invite your friends to short and exciting multiplayer golf battles and determine who is the king of golf!
DOWNLOAD THIS AMAZING PVP MINI GOLF BATTLE ON MOBILE – GET THE GOLF BATTLE NOW!
With Golf Battle, you experience a real golf battle on a miniature golf course with real opponents!
This game requires an internet connection to play
Pros And Cons of Golf Battle Apk
Pros:
Multiplayer Fun: Enjoy real-time golf battles with friends or players worldwide, adding excitement and competition to the game.
Stunning Courses: Explore a variety of beautifully designed and challenging golf courses for engaging gameplay.
Customization Options: Personalize your golfer with various outfits and equipment upgrades, enhancing the overall gaming experience.
Easy Controls: The game offers intuitive controls, making it accessible for players of all skill levels.
Social Interaction: Connect with friends, challenge them, and share your progress on social media platforms.
Regular Updates: Frequent updates introduce new content, keeping the game fresh and offering ongoing excitement.
Cons:
In-App Purchases: The game may have in-app purchases for certain items or features, which could impact the gameplay experience.
Connectivity Issues: Since it's an online multiplayer game, occasional connectivity problems may disrupt the gaming session.
Advertisements: Free-to-play games often include ads, which can be intrusive and interrupt the gameplay.
Competitive Nature: While competition is a pro, some players might find the intense multiplayer aspect challenging or stressful.
Limited Offline Features: The game may have limited features or restrictions in offline mode, reducing its playability without an internet connection.
Device Compatibility: Some older or low-end devices might struggle to handle the game's graphics and performance.
You may choose some similar interesting applications like House Chores Apk
You may choose some similar interesting applications likehttps://apkmody.io/games/subway-surfers-4