About Squid Apk
Squid Apk-Take handwritten notes naturally on your Android tablet, phone or Chromebook with compatible Android apps! With Squid, you can write just like you would on paper using an active stylus, a passive stylus, or your finger.
Easily annotate PDFs to fill forms, edit/grade documents, or sign documents. Import images, draw shapes, and add typed text to your notes. Quickly select, copy/paste, and move content between pages and notes. Organize your notes in Notebook and increase your productivity!
Turn your device into a virtual whiteboard or present in class, meeting or conference by wirelessly streaming to a TV/projector (e.g. using Miracast, Chromecast). Export notes as PDF or images, then share them with others or store them in the cloud!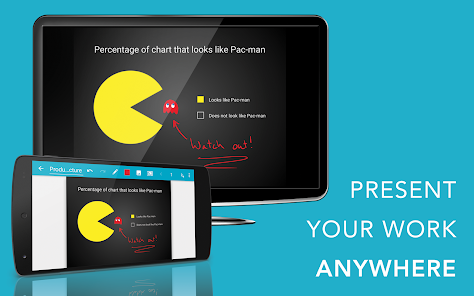 Squid is vector-based – keeps your notes looking great at any zoom level and on any device. You can quickly erase entire letters and words with the Line Eraser tool, or parts of words with the True Eraser tool. The selection tool allows you to change the color and thickness of your writing and even change the size of the drawing whenever you want without any loss in quality.
Squid takes advantage of active pens on capable devices to deliver natural, pressure-sensitive handwriting. Just write with the pen and erase with your finger!
Squid is designed to be both powerful and easy-to-use, so you can take notes quickly and efficiently.
Awards/Recognition
Featured App in Google Play
Honorable Mention in the Productivity Category in the Samsung Galaxy Note S Pen App Challenge: https://goo.gl/Ji9dCS
People's Choice Award in the Dual Screen Apps Challenge: https://goo.gl/J7uT0B
What is Squid Apk?
Squid – Tech Notes & Markup PDF is an actively used utility app for Android phones for writing informative notes. This application has a simple and smart interface that allows users to access it easily. Moreover, you can edit PDF files or organize content easily with your fingers. Download this app on your phone right now to have a great experience by yourself.
What's new in the app?
There are many advancements and new updates in the app to provide the most convenience to users. In version 3.9.3, the app moved to a new Dropbox authentication process so users can save more information and have more security. Version 3.9.2 has been greatly improved and has better support for Android 11+. Notably, the app has fixed the issue of displaying PDF earlier than before to remove the hassle for users. Additionally, the app automatically removes bad fonts to reduce the app size to 4MB; It also fixes PDF text display problem for Chinese, Japanese and Korean languages. Some other bugs have also been improved and updated to meet user needs.
Features of Squid Apk
practice notes app
This is the best app for every user, especially students. Squid is used to take handwritten notes with a stylus or your finger. It is the most efficient and practical application if you do not remember the necessary information. Plus, you can easily highlight, annotate, or edit PDFs to fill out forms or sign important documents. It also lets you add pictures or draw shapes to your notes, and you can quickly copy and move content within the notes and organize them neatly.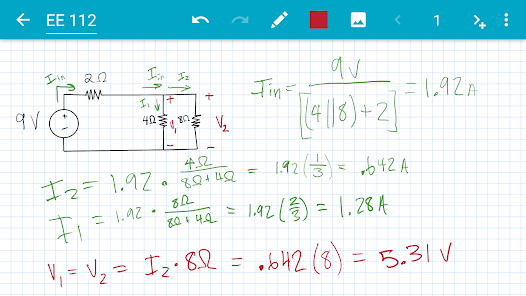 Has many attractive features
First, you can turn your device into a virtual whiteboard and use it to present your lessons. In addition, you can wirelessly connect to the projector to use. Second, you can publish your notes as PDF or PNG images and share them with your friends via social networks or store them in the cloud. The app also uses vectors to keep your notes crisp and beautiful at any zoom level or to change text color and thickness.
Simple and smart management interface
You can control the app and quickly overlay your notes, such as picture notes, diagrams, math problems, etc. Thanks to these attractive features and simple interface, the app has attracted many users across the world.
Key Features
Take notes naturally with the stylus and erase with your finger on devices that support the active stylus (eg Galaxy Note devices with the S Pen).
Take notes with your finger or passive pen on a non-active pen device (such as the Nexus 7)
Vector graphics engine
Multiple paper types (eg blank, lined, graph) and sizes (eg infinity, letter, A4)
Undo/Redo, Select, Move and Resize
Change color and weight of selected objects
Cut, copy and paste items between notes
Scroll with two fingers and pinch to zoom
Double-tap with two fingers to quickly jump to a specific zoom level
Organize notes into notebooks
Sort notes and notebooks
Import, crop and resize images
Export notes to PDF, PNG or JPEG for printing, archiving or sharing
Share notes with friends and colleagues via email, Evernote, and more.
Support for multiple windows
Shortcuts to create a new note or open a notebook
Present notes on secondary displays via HDMI, Chromecast and more. (Android 4.2+)
squid bounty
Create notes and pages with premium backgrounds (Math, Engineering, Music, Sports, etc.).
Import PDFs and annotate them like any other note
Express yourself with additional tools (highlighter, "perfect" eraser, shape, text)
Backup/restore and bulk export of notes in PDF format to cloud storage providers Dropbox and Box
Pros And Cons of Squid Apk
Pros of Squid APK:
Versatile note-taking features, including handwriting recognition and PDF annotation.
Smooth stylus support for a natural writing experience.
Multiple pen and brush options to customize your notes.
Ability to import and annotate PDF documents.
Organizational tools like notebooks, tags, and search functionality.
Supports cloud backup and sync for easy access across devices.
Intuitive user interface for seamless navigation.
Offers different paper types and backgrounds for personalization.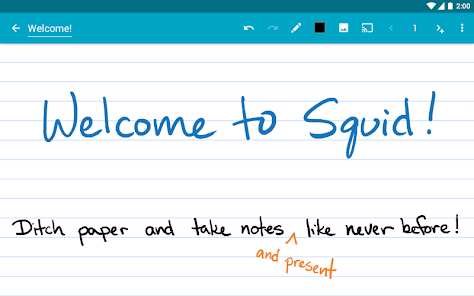 Cons of Squid APK:
Some advanced features may require a premium subscription.
Limited collaborative features compared to other note-taking apps.
May not have as extensive integration options with third-party apps.
Handwriting recognition may not be 100% accurate for all handwriting styles.
Limited availability on certain platforms or devices.
Occasional bugs or stability issues reported by some users.
Lack of audio recording or multimedia embedding options.
Limited customization options for interface and layout.
You may choose some similar interesting applications like Teen Patti Gold Apk
You may choose some similar interesting applications likehttps://www.apkmamba.com/grim-soul-mod-apk/