About GFX Tool Pro Apk
GFX Tool Pro Apk is a free utility launcher for specific games where you can fully customize game graphics to get beautiful view and smooth gameplay.
GFX tool pro apk 2.5 is an Android application designed to improve the gaming experience of mobile users. The package ID of this application is 'com.vegagamebooster.gfxtools.pro'. The app offers a variety of features and tools that help gamers optimize their device's graphics settings, improve performance, and reduce lag while gaming.
One of the most notable features of GFX Tool Pro – Game Booster is the ability to customize graphics settings for individual games. Users can adjust the resolution, frame rate, shadows, textures, and other visual elements to suit their preferences or device capabilities. With these customization options, players can get smooth gameplay with better image quality.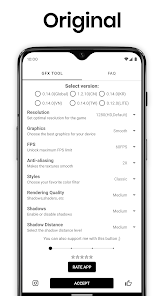 Features of GFX Tool Pro Apk
Graphics Settings Optimization: GFX Tool Pro allows you to optimize graphics settings for improved visuals and smoother gameplay.
Resolution and FPS Control: Adjust the resolution and frames per second (FPS) settings to achieve the desired balance between graphics quality and performance.
Anti-Aliasing and Shadows: Enable or disable anti-aliasing and shadows to enhance or reduce the level of detail in the game graphics.
Texture Quality: Adjust the texture quality to enhance or reduce the level of detail in the textures of the game.
GPU Optimization: GFX Tool Pro optimizes the GPU performance to ensure better rendering and smoother gameplay.
Crosshair Overlay: Some versions of GFX Tool Pro provide a crosshair overlay feature, allowing you to add a customizable crosshair to your game screen.
Save and Load Profiles: Save your preferred settings as profiles for different games and load them easily when needed.
Easy-to-Use Interface: GFX Tool Pro generally offers a user-friendly interface, making it easy to navigate and customize settings.
Compatibility with Multiple Games: GFX Tool Pro is designed to work with a wide range of Android games, providing optimization options for various titles.
Battery Optimization: Some versions of GFX Tool Pro offer battery optimization features to help extend the battery life while gaming.
Another feature offered by this app is game optimization. It automatically frees up memory and clears cache files before launching games to ensure optimal performance. Additionally, it disables background processes and applications that may interfere with gameplay or consume system resources.
GFX Tool Pro – Game Booster also provides a range of advanced tools such as FPS monitoring, GPU temperature tracking and CPU usage analysis. These features allow users to monitor the performance of their device in real time while playing games.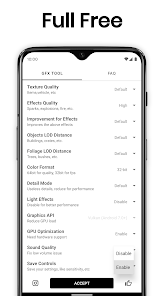 Overall, GFX Tool Pro – Game Booster is a great tool for mobile gamers who want to optimize their gaming experience on Android devices. Its customizable graphics settings and optimization features allow users to easily improve the performance of their device according to their needs.
Key Features
Change resolution
HDR graphics and unlock all FPS levels
Full control over anti-aliasing and shadows
And many other useful options
All game versions are supported.
How to use GFX Tool Apk
If the game is running before starting the GFX Tool, close it
Choose your version of your game
Customize graphics to your liking and device capabilities.
Once everything is set, click on accept and run the game
Pros And Cons of GFX Tool Pro Apk
Pros of GFX Tool Pro:
Enhanced Graphics: GFX Tool Pro allows you to improve the graphics quality of your games, resulting in a visually stunning gaming experience.
Performance Optimization: The tool optimizes the performance of your device, ensuring smoother gameplay by adjusting graphics settings.
Customization Options: GFX Tool Pro offers a wide range of customization options, allowing you to fine-tune graphics parameters according to your preferences.
Compatibility: It is compatible with a variety of Android devices and games, providing optimization options for a broad user base.
User-Friendly Interface: The tool is designed with a user-friendly interface, making it easy to navigate and adjust settings.
Cons of GFX Tool Pro:
Device Compatibility: Although GFX Tool Pro supports many devices, there may be some compatibility issues with certain models or hardware configurations.
Incompatibility with Some Games: Some games may not work optimally with GFX Tool Pro, and in rare cases, they may not be compatible at all.
Potential Performance Impact: While GFX Tool Pro aims to improve performance, it is possible that using certain settings may cause a minor performance impact on lower-end devices.
Dependency on Third-Party Software: GFX Tool Pro is a third-party tool and may require periodic updates or compatibility adjustments with game updates.
User Responsibility: It's important to use GFX Tool Pro responsibly, as improper settings adjustments or over-optimization may lead to glitches, crashes, or unexpected behavior in games.
You may choose some similar interesting applications likeTXD Tool Apk For Android Free New Version 2023
You may choose some similar interesting applications likehttps://techitore.com/en/indrive-apk